About National Family Promise
Family Promise is a national organization. A network of affiliates in over 200 locations across the US. Our vision is to end family homelessness. You can learn more about the National Organization by visiting their website: familypromise.org.
Karen Olson, a Manhattan marketing executive, encountered a homeless woman, someone she'd seen over and over again on her way to work.
She decided to buy a sandwich for the woman. The stranger accepted the sandwich but asked Karen for something else – a moment to be heard, to be comforted, and to be considered as more than a mere statistic on a cold street corner.

Soon, Karen and her two young sons began frequent trips to New York to hand out sandwiches to the homeless. Olson learned that there were hundreds of homeless people, including families, in her home community of Union County, New Jersey.

She turned to the religious community for help, convinced that there were many who shared her concern and that together they could do what they couldn't do alone. Within ten months, eleven area congregations came forward to provide hospitality space within their buildings. The local YMCA agreed to provide showers and a day center for families. A car dealer discounted a van.
The first Interfaith Hospitality Network (IHN) opened its doors.
As word spread, ten more congregations formed a second Network. Programs for transitional housing, childcare and family mentoring followed – outgrowths of increased awareness and involvement.
The Network goes National
The success of the first Networks led other congregations to seek help in developing similar programs.
The Network changed its name to Family Promise
The organization changed its name to Family Promise to reflect a broader range of programs and reaffirm its core commitment to helping families realize their own potential.
Family Promise of Lawrence (FPL) launched our work in Lawrence, Douglas County, KS.
Joe Reitz, retired KU Ethics Professor, became aware of the situation of families who were experiencing homelessness in our community while serving as the CEO of a local healthcare provider for under – insured in Lawrence. Joe gathered a group of committed concerned citizens to research effective models for dealing with this issue. They began working with the national Family Promise organization in 2007 and established an affiliate in Lawrence, KS in 2008. The first Executive Director of FPL was Valerie Miller-Coleman. Valerie and her team of volunteers found the funding and more than 20 congregations of faith willing to participate in sheltering families who were experiencing homelessness. The now almost legendary story is that Joe Reitz said we must open and accept families into shelter before the first snowfall of 2008 – and so they did!
With a budget of less than $150,000, FPL served 14 families. They did this with a well-established and trained group of more than 1,000 volunteers who hosted the families in their congregations at night. During the day the families came back to the Day Center. Our Day Center is offered by one of our strongest partners in this work, Ninth Street Missionary Baptist Church.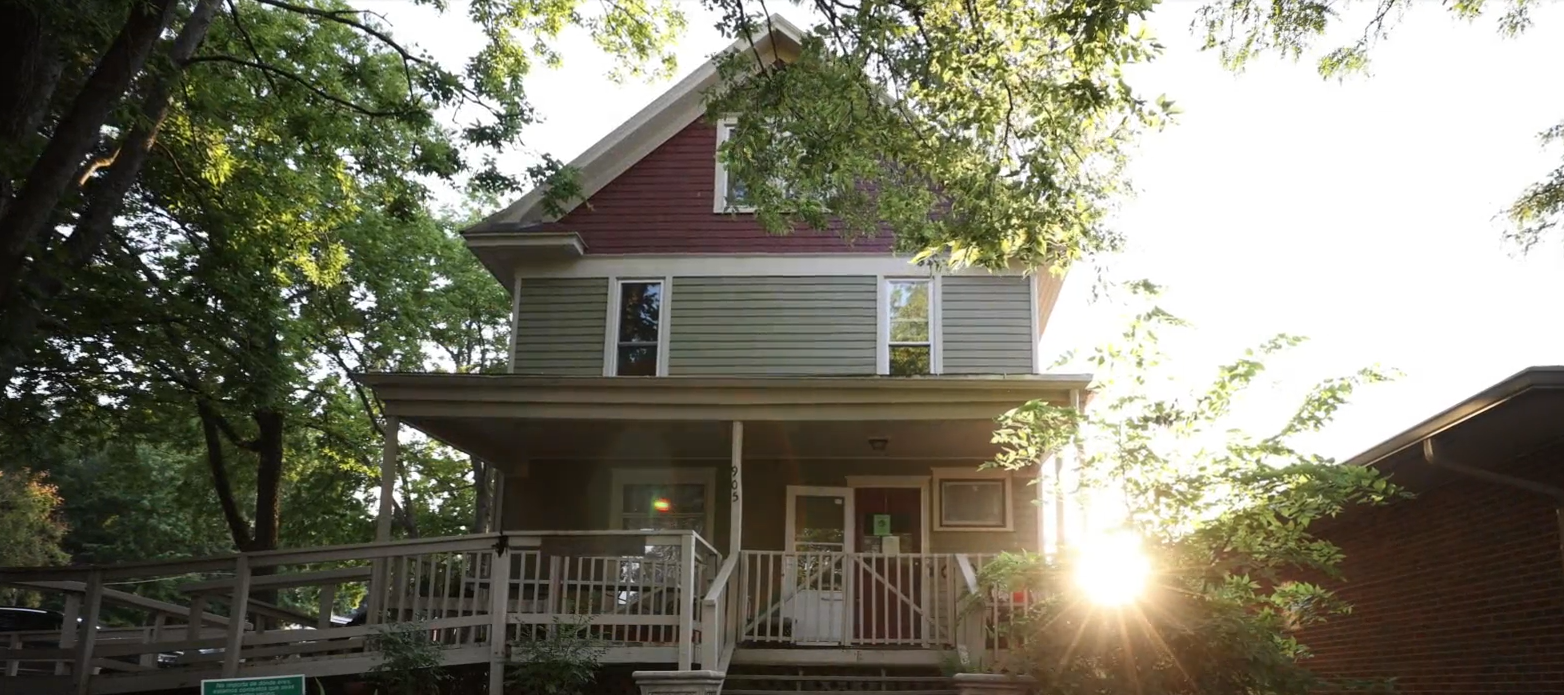 Valerie moved on to other career opportunities, and FPL hired Dana Ortiz as the new Executive Director.
FPL launched the first expansion of programming by adding the first Temporary Housing unit, allowing families an extended time in programming if needed before returning to permanent housing. This program has now grown to 13 available units, which are rented by FPL from generous private property owners in our community.
FPL expanded service offerings with additional Temporary Housing units and launched a new program, Program 515 (P515). This expansion allowed FPL to have a 2nd intake program: the Rotation in the congregations, and P515, which allowed families to shelter elsewhere, work the FPL program and receive case management services on their way back to housing. Expansion of programming was a response to the enormous needs. The first year that we had our database, 515 different families called in need of services. That is how the P515 Program how it got its name.

In 2014, with the addition of Temporary Housing units and P515, FPL expanded the number of families served by 30% over previous years. 30 families were served in the 3 different programs, all with a budget of $212,000.
The number of families served increased greatly with the addition of our Diversion from Shelter Program, our Prevention Program, and partnering with the Lawrence Douglas County Housing Authority and The Lawrence Community Shelter on the case management supports for the New Horizons Voucher Program. The goal of the New Horizons program was to help families sheltering at LCS to move into housing with a voucher and case management supports for 2 years in their home.
A year like none of us had experienced before. Well-positioned to meet the increased needs due to the COVID-19 pandemic, FPL expanded services in our Prevention, Diversion and Stabilization Programs. All the while, we continued to stay open and offer Emergency Shelter as well, though not through our usual Rotation model of shelter. We quickly transitioned shelter to using the Temporary Housing units as Shelter in Place units. Congregations, businesses and partnering agencies such as Just Food, as well as other organizations, provided food for the Shelter in Place families. In all programs in 2020, FPL served 395 different families through the continuum of service offerings: Prevention – Diversion from Shelter – Shelter – Stabilization.

FPL joined forces with Tenants to Homeowners to form the Housing Stabilization Collaborative (HSC) to address the needs of those calling concerned about losing their housing during the pandemic due to loss of income. FPL increased our staff to help address the needs in our community, and used many volunteers to process the applications for the HSC Rent Assistance program with funding from CARES money.